THE METALOGUE EU PROJECT:
A Meta-Cognitive Skills Training Avatar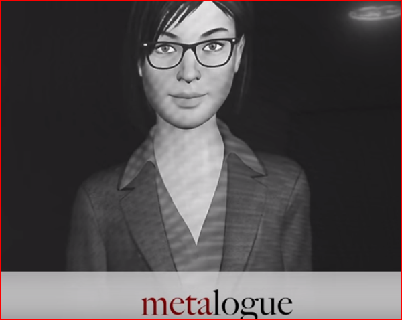 Between 2013 and 2016, DialogCONNECTION took part in the EU-funded FP7 R&D project, METALOGUE, one of 10 Consortium Partners. The project aim was to develop a natural, flexible and interactive Multi-perspective and Multi-modal Dialogue system with meta-cognitive abilities, a system that can:
monitor, reason about and provide feedback on its own behaviour, intentions and strategies and on the dialogue itself,
guess the intentions of its interlocutor
and accordingly plan (and if needed adapt) the next step in the dialogue.
The 3-year project, which ended in October 2016, had a budget of €3,749,000 (with the EU contributing €2,971,000) and brought together 10 Academic and Industry partners from 5 EU countries (Germany, Netherlands, Greece, Ireland and the UK).
METALOGUE focused on interactive and adaptive training situations, where debating and negotiation skills play a key role in the decision-making processes. Pilot systems were developed to train both types of skill. Reusable and customisable software components and algorithms were developed and integrated into a prototype platform, which provides learners with an interactive environment that motivates them to develop meta-cognitive skills by stimulating creativity and responsibility in the decision-making, argumentation and negotiation process.
The project produced virtual trainers, Avatars, capable of engaging in natural interaction in English (with the possible addition of German and Greek in the future), using gestures, facial expressions and body language. The pilots were evaluated by English-speaking students at the Hellenic Youth Parliament and several participating University campuses. Various industry verticals were also targeted in the course of the project, in particular Contact Centres, e.g. to semi-automate and enhance Call Centre Agent Training.
Above is the METALOGUE Avatar in action! In this video, our full-body METALOGUE Avatar is playing the role of a business owner, who is negotiating a smoking ban with a local Government Counsellor. Imperfect (e.g. some latency before replying and an embarrassing repetition at some point!), but it also exhibits realistic facial expressions, gaze, gestures and body language and even selective and effective pauses. It can process natural spontaneous speech in a pre-specified domain (smoking ban) and has achieved an ASR error rate below 24% (down from almost 50% in the 1st year of the project!).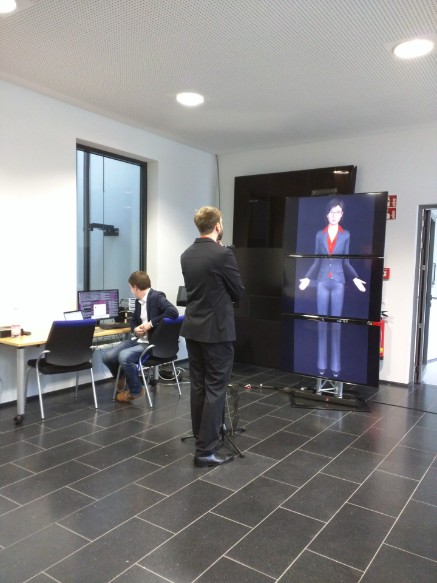 The role of DialogCONNECTION in the project was to attract interest and feedback from industry to gauge the relevance and effectiveness of the METALOGUE approach in employee training contexts (particularly negotiation and decision-making scenaria). We had been looking particularly for Contact Centres, either small and agile (serving multiple small clients) or large (and probably plagued by the well-known agent burn-out syndrome). Any type of training organisation, however, is appropriate. The idea has been to use such an Avatar to provide extra training support on top of existing training courses and workshops. It's not about replacing the human trainer, but rather empowering and motivating Call Centre Trainee Agents who are trying to learn how to "read" their callers and how to successfully negotiate deals and even complaints in an optimal way.
Even though the project has now ended, if you are interested in trying out or exploiting the METALOGUE technology commercially, do get in touch! Ideally, you would give us access to real-world Call Centre Agent-Caller recordings or even simulated Trainer – Trainee phone calls that are used for situational Agent training (either already available or collected specifically for us). A total of just 15 hours of audio (and video if available) would suffice to train the METALOGUE speech recognisers and the associated acoustic, language and metacognitive models and customise them to your own domain and requirements. Strict EU Guidelines for data protection are, of course, applied on all the collected data (e.g. caller anonymisation, sensitive data redaction). If you don't want to commit your organisation's data, any type of feedback would make us happy! As an innovative pioneering research project, any guidance, evaluation or input from the real world of industry is invaluable!